I know that I said my recipes would take no longer than 30 minutes, and obviously a slow cooked meal is going to take a lot longer than 30 minutes to cook, but bear with me here... the preparation time is less than 10 minutes and the cooking is done whilst I'm out at work.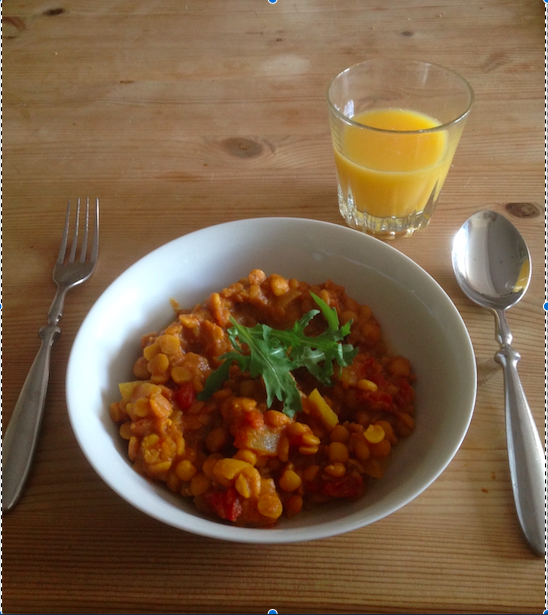 Now that autumn has arrived properly, there's nothing nicer than coming home to the delicious smell of a comforting lightly spiced dhal; knowing I just need to add some rice or naan bread and dinner'll be on the table in 5 minutes. The slow cooker meals work well for our family, when everyone needs their meal at a different time of the evening due to work, athletics, rainbows, cubs, scouts, explorers, etc.
This recipe serves 6 and costs less than £1.50 for all 6 portions! It's low calorie with less than 200 kcal, provides 30% of your daily protein requirements and over 4g fibre in each serving.
I prepare/mix the ingredients together the night before, pop them into a tupperware and into the fridge overnight. Then all I need to do in the morning is to pour the mixture into the slow cooker and switch it on... I find that a post-it note reminder on the front door is useful, as dinner is not always the first thing on my mind as I leave the house at 7am.
Slow Cooker Yellow Split Pea Dhal
Ingredients: 300g yellow split peas, 1 medium onion (chopped), 200g tinned tomatoes, thumb sized piece of ginger (grated), 2 tsp ground cumin, 2 tsp turmeric, 2 garlic cloves (crushed), 700ml stock (I use a stock cube), 1 red chilli
Method: Mix all the ingredients together. Pour into tupperware container.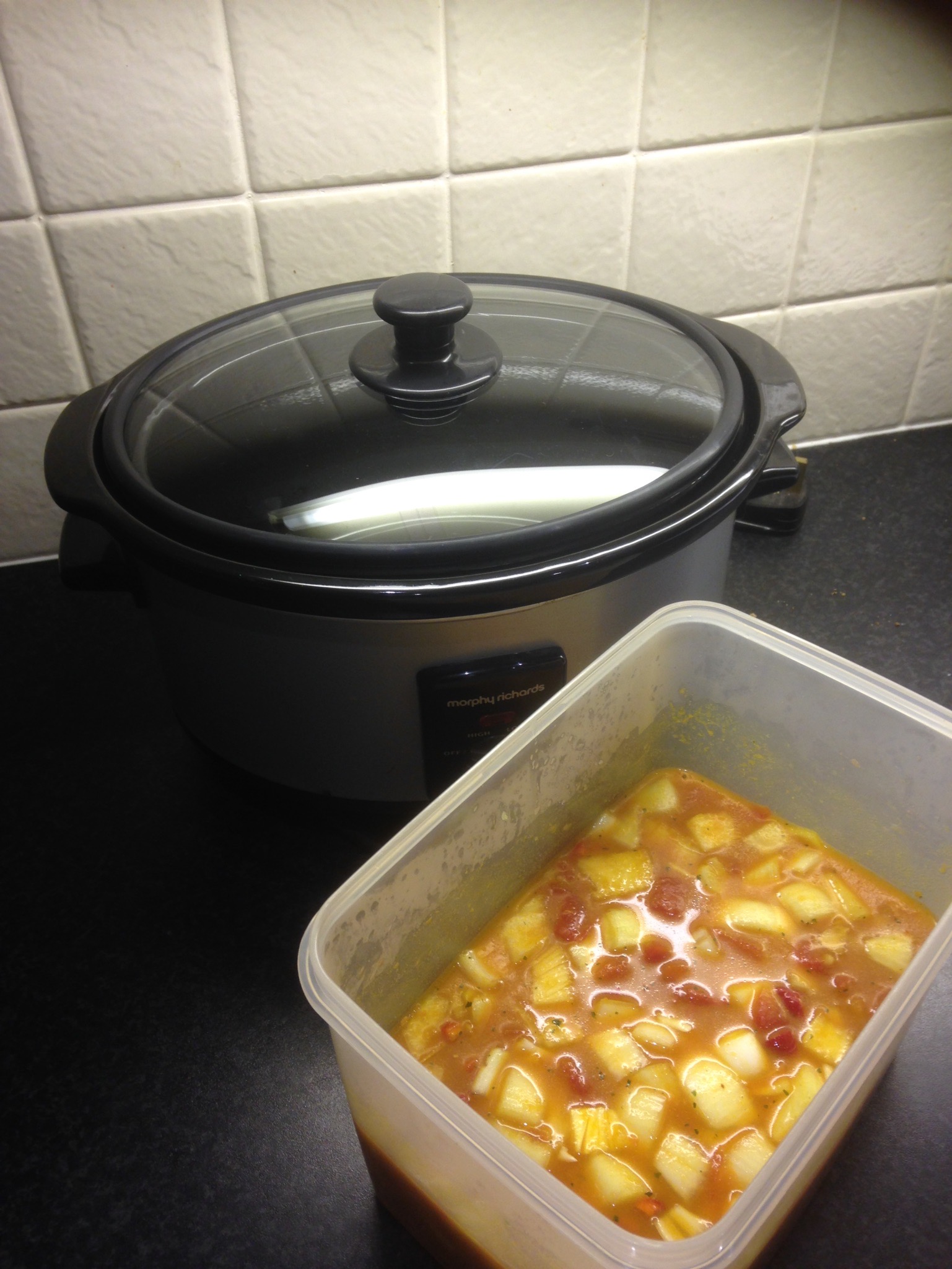 Place in fridge overnight. In the morning, pour the dhal mixture into slow cooker crock pot. Switch on slow cooker and get on with your day. Ready to serve 2 adults and 2 ravenous teens in the evening, with enough leftover for 2 lunches next day... all for a total cost <£1.50 for 6 portions.
Here's the nutritional info bit: Per serving: Energy: 201kcal, Fat: 1.8g (of which saturates 0.2g), Carbohydrate: 30.3g (of which sugars 3.9g), Fibre: 4.4g, Protein: 13.7g